In some ways, Sunnyside High School senior Haley Rodriguez is a typical teenager and student.
She has participated in several sports: soccer, bowling and track. "I've played soccer the majority of my life," Rodriguez said.
She is proud of her siblings. Older sister Hennessy Rodriguez graduated from Sunnyside High School last year and is an engineering major at the University of Washington. She has two younger brothers: Cain Rodriguez, a high school freshman, and Mason Rodriguez, a fifth-grader.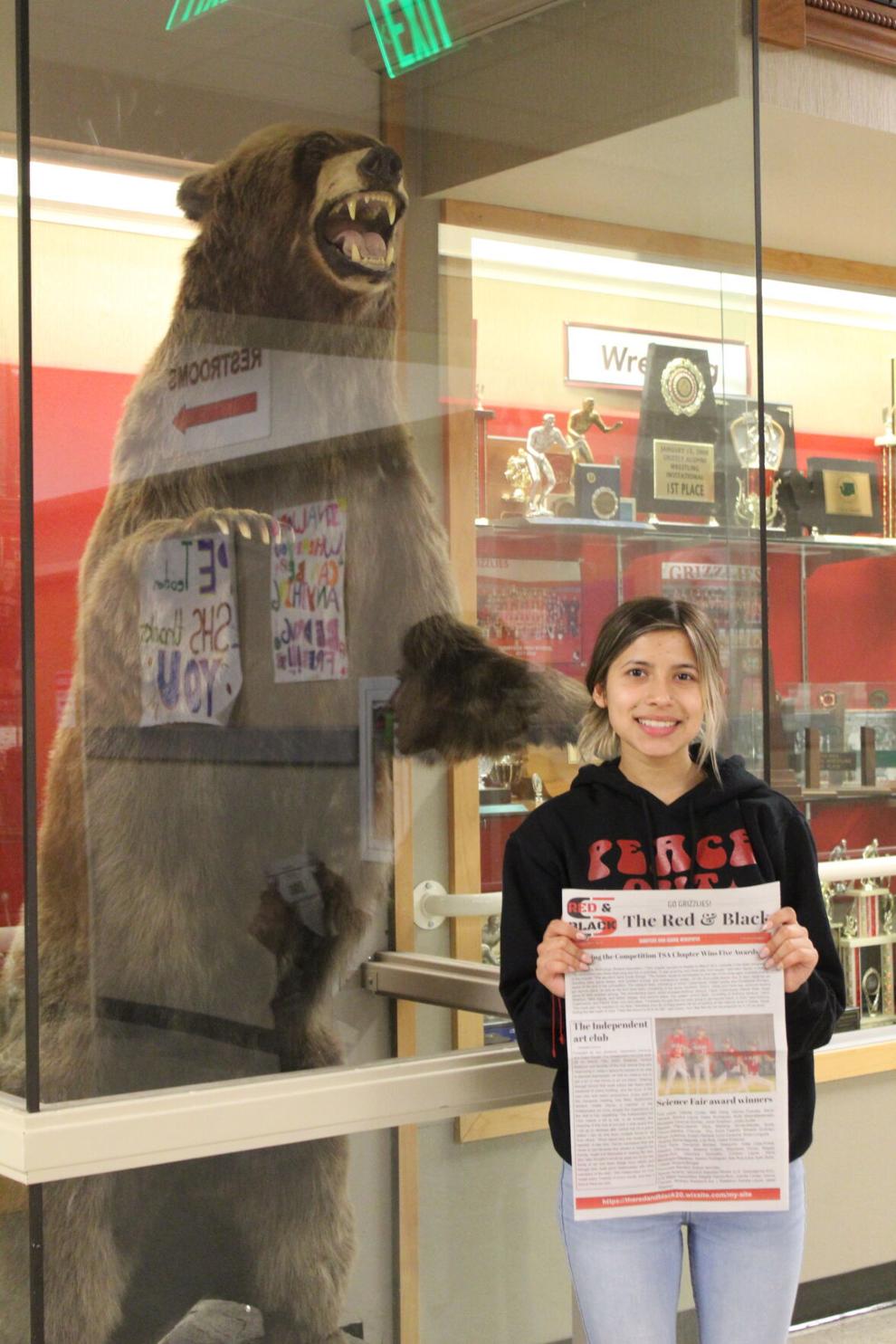 And Haley can tell you exactly how many days remain in her senior year: "Seventeen days," she noted during a ThursdayMay 5, interview. "But who's counting?"
Rodriguez has something that sets her apart: strong skills and enthusiasm for journalism, said teacher and school newspaper advisor Tyler Rablin.
"When Haley talks about what she does (at the Red & Black), I think she undersells herself quite a bit," Rablin said. "She pitches story ideas, helps edit stories, writes stories, takes photos, does the layout.
"If Haley wasn't running the paper, I don't think it would happen."
She created a new school newspaper, The Red & Black, her sophomore year, and as in-person learning resumed after a COVID-induced break for the 2021-22 school year, Rodriguez brought back a print edition. It's the first time Sunnyside High School has had a print newspaper since the previous paper stopped production in 2013. She also worked as an intern at the Sunnyside Sun last summer.
The daughter of Jaime and Marecela Rodriguez, Haley recently discussed the student newspaper with the Yakima Herald-Republic.
What does your role as editor of the Red and Black entail?
Putting everything together. Doing a lot of coverage on a lot of things. Making sure everything's where it's supposed to be and making sure we have a lot of articles — sports, entertainment and all that. Just putting everything together is the most important.
We have a couple of reporters — Patrick (Wise), Rebekkah (Campos). There's a lot of people that put this together. Their bits and pieces — I put them together. Organizing it. And putting it out as well. I do the layout, and then make sure it goes out to the school.
What made you decide to start printing it again?
Well, actually The Red and Black was a virtual newspaper for the first two years. I started it my sophomore year. This year, when we were going back to being in classrooms, I was thinking maybe it's time to do a paper copy.
Have you seen kids reading the paper?
Some kids are enthusiastic about it. Whenever we have people handing them out, they're like, "Oh, can we get a copy?" A lot of people that are in the paper are really excited about it, too. The people who get interviewed, they always want a paper. The people who have pictures in there, they always want a paper.
And a lot of teachers are actually enthusiastic about it, too.
A question someone who's been in the journalism business for a few years would like to know: What's the best way for young adults like yourself to get news, and what's the most popular way?
Well, the most popular way for a kid like myself to get this news would be a website, and we do have one. We do a lot with social media as well. We have Instagram and are on Facebook. A lot of people like to read on their phones, more than a paper copy. So we do have a website, we try to put some of our articles on there.
(Response) is enthusiastic when you're in the paper, when you're involved in something. You really want your friends to read it, or your family. I've had people tell me, "Oh yeah, I gave one to my mom, I gave one to my sister" when they were in the paper.
What's your favorite story that's been in the paper this year?
Good question… there are a lot of good stories. The first one, our first edition when we were introducing our paper back. It was the one Mr. Rablin wrote, "The Red & Black is back." That was one of my favourites. It was a very good piece introducing The Red & Black.
On the other side of that, what are some of the more difficult things you have to do as a newspaper editor?
It's making sure that we have more than enough articles. Because sometimes we have to find more pictures and articles, or have to come up with something to put in the paper, because we still have a lot of room left. It's thinking about stories as well. We're still trying to expand on that.
May is our last issue. Stories are due the 21st of May, and it will come out May 25th.
What are your future plans?
I'm going to Western (Washington University) in the fall. I want to major or minor in journalism and business. I like to write, I like photography. I'll write an article every now and then for the paper, if we need it.